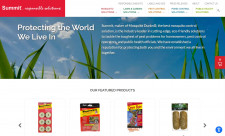 BALTIMORE, August 10, 2021 (Newswire.com) - Summit Responsible Solutions, a leader in environmentally responsible pest control products, has introduced a new website designed to be accessible for consumers and filled with authoritative information for pest control professionals. The new website is at www.summitchemical.com.
Summit's social media pages on Facebook, Instagram and Twitter have also been redesigned to offer better photos and graphics. The social media posts provide information about pest awareness and pest control.
"Summit Chemical Company, and its Summit Responsible Solutions brand of consumer products, takes pride in formulating responsible solutions to a wide variety of pest problems," said Jonathan Cohen, President of Summit Chemical. "We have established a solid reputation for controlling insect pests while protecting people and the environment. We wanted our online presence to reflect our brand and our commitment to responsible solutions."
Summit Responsible Solutions is known for its best-selling mosquito control products, Mosquito Dunks® and Mosquito Bits®. The active ingredient in these environmentally friendly products is a naturally occurring bacterium called BTI (Bacillus thuringiensis israelensis). BTI naturally kills mosquito larvae before they can become disease-spreading adults. Even though BTI is fatal to mosquito larvae, it is harmless to people, pets, fish, wildlife, and beneficial insects.
"Mosquitoes spread some of the world's deadliest and most debilitating diseases including West Nile virus and malaria," said Cohen. "It may never be possible to live in a completely mosquito-free environment, but eco-friendly Summit products are very effective at killing mosquitoes that can transmit deadly diseases."
Effectiveness and Environmental Health
A primary message on the new Summit website and on Summit's social media pages is the company's dedication to product effectiveness and environmental health.
"We constantly strive to develop and promote forward-thinking pest control solutions for consumers as well as pest control industry professionals," said Bill Stengel, Vice President - Sales for Summit.
The improved website design includes a new blog section called Responsible Insights. Recent posts include stories on controlling mosquito breeding sites during the rainy season and a post entitled "What Does Going Green Mean?" Another new website section offers information for public health professionals.
Summit Responsible Solutions also makes Summit® Year-Round® Spray Oil, Summit® Tick & Flea Spray, Summit® Biological Caterpillar & Webworm Control, and Summit® Deer BanTM. These products are available at fine garden centers, hardware stores, home centers, and online retailers. For more information, visit www.summitresponsiblesolutions.com.
Source: Summit Responsible Solutions
Share: