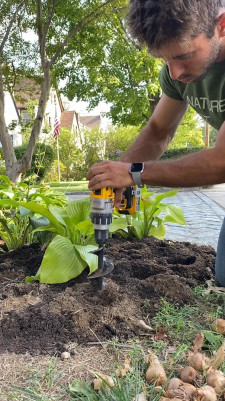 COLORADO SPRINGS, Colo., September 1, 2021 (Newswire.com) - Fall is a great time for planting. The cooler temperatures of autumn make planting a more enjoyable experience for the gardener. Plus, fall conditions are very beneficial for plants.
"The more moderate temperatures in the fall are especially conducive to fall planting and other fall gardening activities," said Greg Niewold, owner of Power Planter.
In the autumn, garden soil is still warm enough for roots to grow and become established. Plant roots generally grow until the ground freezes. So, fall-planted perennials, shrubs and trees have time to get established before the first killing frost.
In addition, fall is a wonderful time to buy plants. Although many varieties of plants can be sold out by fall, those that remain in garden centers, home stores and online vendors are often deeply discounted. That means a good shopper can score some great deals on deeply discounted plants.
"Fall is the perfect time to plant spring-blooming bulbs and perennials," said Niewold. "Then, in the spring when flowers and foliage are appreciated most, you are greeted with the vibrant colors and new growth of a new spring season."
Here are some tips for fall gardening that will result in a great springtime yard and garden.
Fall Planting for a Spring Garden
Examine Your Yard and Garden. What do you enjoy most about the plants in your yard and garden? Do you love the flowers? Or the year-round greenery of evergreen plants? Which of your plants require too much care? Write down a list of your favorite existing plants and some favorite plants that you don't currently have in your yard. Also list the plants in your garden that you don't love. This list will come in handy when you get to Step #3 below.
Plan Ahead. Take photos of your garden. (A sketch of your current garden space is also a great way to visualize the entire space.) What changes would you like to make? Keep in mind the dimensions of the spaces you have to fill and the mature sizes of the plants you might want to add.
Visit a local Garden Center or Plant Nursery. Check your list to make sure you have a variety of plant types, scents, bloom times, beneficial plants, textures, sizes, and colors. Ask the local expert which plants they have in stock that can be planted now.
Start Digging. Once you've selected your plants, you'll want to plant them quickly. Visit the Power Planter auger guide to find the right digging auger to make gardening tasks easier. From bulbs to large shrubs, a planting auger in your power drill makes planting much faster.
Water. All new plants need a generous drink of water. Continue to water plants if you get less than one inch of rain per week until the ground freezes.
Enjoy your newly planted garden.
Source: Power Planter
Share: