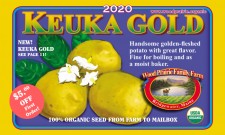 COLORADO SPRINGS, Colo., February 21, 2020 (Newswire.com) - HomeGardenandHomestead.com, a website filled with what's new and trending for homes and gardens, has published its list of the best garden catalogs and websites for 2020. The editors of Home Garden and Homestead reviewed dozens of garden catalogs and websites to narrow the list down to the few it considers "the best of the best."
"The weather outside is still very wintery in most of the country," said Randall Schultz, Content Editor for Home Garden and Homestead. "Fortunately, the companies that sell seeds and plants time their catalog releases and website content perfectly. This is the time for gardeners to look at the new vegetable and flower varieties and start planning their spring gardens."
Here are HomeGardenandHomestead.com's choices for the Best 2020 Garden Catalogs and Websites.
Wood Prairie Family Farm
Wood Prairie Family Farm is famous for its award-winning organic seed potatoes and its commitment to sustainable agriculture. The newest seed potato variety is called Keuka Gold—a handsome golden-fleshed potato with great flavor. Other potato varieties include Adirondack Red, Prairie Blush, All-Blue and Rose Finn Apple Fingerling.
The entire selection of heirloom organic vegetable seeds from this Maine-based family farm is certified organic. https://www.woodprairie.com/awesome-one/
Logee's
Logee's is known worldwide for its selection of rare and unusual plants. Celebrities like Martha Stewart shop at the Logee's retail nursery in Danielson, Connecticut.
Logee's has made a name for itself by breeding cold-hardy and indoor tropical plants. The catalog is full of delights such as coffee trees and night-blooming jasmine. Also look at Variegated Arrowhead Vine and the Green Thumb Award-winning Angel's Trumpet 'Angel's Summer Dream' for more of what this incredible nursery has to offer. www.logees.com
High Country Gardens
High Country Gardens offers native and water-wise plants that are ideally suited for drier, tougher landscapes. But even if you don't live in the Western U.S., the hardy perennials and wildflowers from High Country Gardens are a must-see.
Many of these beautiful plants and pre-planned gardens will thrive in just about every garden zone. HCG introductions such as Ava's Hummingbird Mint and Walker's Deep Blue Catmint have become popular throughout the USA. www.highcountrygardens.com
Gurney's Seed & Nursery Co.
Gurney's is a classic seed and plant nursery. Established in 1866, the annual Gurney's catalog features American garden favorites from heirloom tomatoes and butter lettuce to blackberry bushes and peach trees.
This year, Gurney's is featuring RazzMatazz Seedless Grapes and AsparaBest Asparagus—plus vegetable seeds, flower seeds and seed-starting supplies. https://www.gurneys.com/
Spring Hill Nurseries
Spring Hill Nurseries sells perennials, shrubs, flowering vines and roses. This catalog never disappoints with its selection of must-have flowering plants.
Many plants are grouped into themes—such as a collection of patio-friendly fruit trees and bushes. Check out new plants like Maria Sklodowska Curie Clematis, Goldflame Honeysuckle and Pretty Parasol Coneflower. https://www.springhillnursery.com/
Source: HomeGardenandHomestead.com
Share: