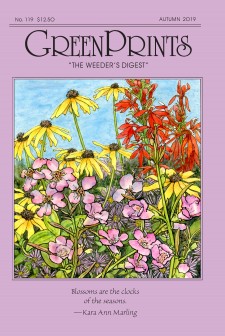 FAIRVIEW, N.C., November 26, 2019 (Newswire.com) - ​​GreenPrints, the quirky little magazine that shares the joys and rewards of gardening, celebrates its 30th anniversary in 2020. The digest-sized quarterly that calls itself the "Weeder's Digest" published its first issue in 1990, and it has been delighting readers ever since.
The idea for GreenPrints came to Pat Stone, the founder and editor, as he rounded the last curve to his rural home in Fairview, North Carolina. He was about to be laid off from his job as Garden Editor for Mother Earth magazine, which had been bought by an out-of-state company.
"I came up with the concept of a totally different kind of garden magazine," said Stone. "It would have no how-to information about growing better gardens and no pretty pictures of flowers or ripe tomatoes. But it would be the world's first magazine about the experiences of avid gardeners and why growing plants can be good for your soul."
It was not a get-rich-quick business idea. But it was a way for Pat Stone, his wife, Becky, and their four kids to stay in the small town they loved. In fact, in its early years, GreenPrints magazine was very much a family affair. The magazine was published out of the family home, and every issue and every subscription renewal notice was stuffed, labeled, sealed, sorted and mailed by the entire family.
A Labor of Love
Every issue of GreenPrints magazine is filled with stories written by avid gardeners about their personal experiences in the garden. Some are sweet, such as one gardener's story about how being nearsighted made her a better gardener. Some are surprising, like the story by a high-school football player who shared his passion for gardening. Some are hilarious, such as the story about two ladies who decide the best way to dispose of large tomato hornworms is to run over them with a VW bug.
Every issue of GreenPrints is lushly illustrated with hand-drawn original artwork. In fact, each magazine is truly a labor of love—just like gardening.
It shouldn't come as a surprise, then, that the magazine deeply touches its readers. Subscribers say things like "I kiss each issue when it arrives!" and "This [magazine] is the most joy one can give for this amount of money!"
Award-Winning Publication
Stone's dedication to publishing the magazine has also been recognized by the gardening communications industry. The delightful quarterly magazine has twice received the Best Small Garden Magazine award from GardenComm, an international organization of garden communicators.
Stone has also been recognized for his lifetime commitment to the gardening industry. This past summer, GardenComm named him a Fellow of the association in recognition of his 30 years as editor and publisher of GreenPrints magazine.
Clearly, GreenPrints is a very special magazine for anyone who loves plants and gardening. A one-year subscription is $24.95 from www.greenprints.com.
Source: GreenPrints Magazine
Share: